Boveda Humidificatiion

Two-way humidity control prevents loss of essential oils and flavor
All Armored Humidors utilize BOVEDA—the world's first two-way humidity control. All other humidification products only work one-way—by emitting moisture into the air whether it's needed or not. This causes fluctuations in humidity — subjecting your cigars to a damaging drying and re-moistening process. It's this process that causes cigars to lose their essential oils and decrease in quality—and flavor.
Boveda is the global leader in 2-way humidity control. They provide a wide range of relative humidity (RH) levels for various industries, including premium tobacco, musical instruments, food, electronics, medical devices and herbal medication. Boveda works on the scientific principle that certain salts mixed with water will naturally add or remove humidity as necessary to maintain a predetermined RH. Boveda invented and patented the method that makes this scientific principle portable and practical for packages and containers.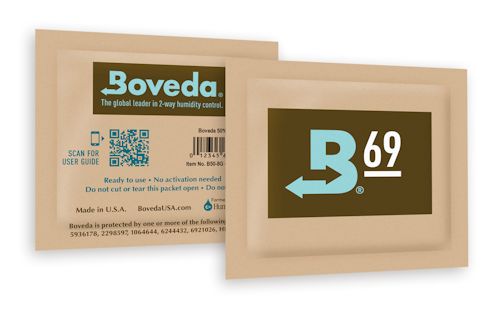 Each Boveda responds to the ambient temperature and humidity—adding or removing moisture to maintain the predetermined RH level indicated on the Boveda. There's no activation or maintenance required and our various sizes means there's a Boveda perfect for any tobacco storage need.
Boveda is used by these top Cigar companies:
Arturo Fuente, Altadis, CAO, CertiFresh Cigars, Cigars of Habanos, Holt's, La Flor Dominicana, Oliva Cigars, Neptune Cigars, New Havana Cigars, Padrón, Puro Express, Rocky Patel, Smoke Fred, Serious Cigars, Tabacalera Falto, Toraño
CLICK HERE to purchase refill packs.