Testimonials
We would love to hear your Armored Humidor story. Let us know how your Armored Humidor has served you along with any pictures you might have of the travel humidor in action. CLICK HERE to send us your story!

---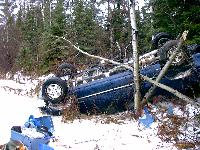 We were driving up to Ely, MN on hwy. 169 in December to visit a friend. The roads were slushy and we were traveling at what we thought was a safe speed, about 40mph with 4WD. We hit a patch of ice and the truck started to fishtail. The fishtailing became uncontrollable and the truck started heading toward the ditch, back end first. We hit the ditch, the truck flipped. When we flipped, the contents of the bed, mostly Rubbermaids and the Armored Humidor were spewed everywhere.

Well, needless to say being that it was cold out everything shattered. Well, almost everything. The A.H. was the only piece of plastic that large that was spared a thrashing. The truck was totaled and the rubbermaids have since been replaced, but we were very thankful that our smokes were intact. We needed them after that.
Josh Rushlo
---
To whom it may concern,
I am currently serving in Afghanistan in support of Operation Enduring Freedom and my father sent me a Model 1200 humidor for my birthday. It has got to be one of the best presents I have ever received. It is very dry here and cigars don't last very long, but with my new humidor I don't have to worry about that anymore. There is nothing better than getting off of work after 12 hours and having a nice cigar that is still fresh. Thanks to the people of Armored Humidor Systems for a great product that stands up to anything.

Major Bryan Gates
Director of Operations
726 Expeditionary Air Control Squadron


---
Hey guys,
This is my second order, I take my armored humidor EVERYWHERE with me. I bought my first one two years ago and have taken it on three deployments to Afghanistan, including the one I'm on now, Korea, and all over my travels through Europe. I haven't been able to beat that thing up no matter how hard I have tried and it always keep my cigars in perfect shape. I decided to get two more in different sizes for different occasions. I take my armored humidor out with me in the vehicle on the longer missions, "just in case" but it would be nice to have some smaller ones that I can throw in my rucksack. One of the best things about my armored humidor is that it looks like the rest of our equipment Pelican cases.
When we travel for work, I am always the one who's suitcase or luggage gets lost. I put the armored humidor in with the work stuff and it makes to the other end every time.
Thanks again for a great product and for the awesome customer service. You guys rock!